For new enquiries contact Contact GoCruise free on:
0800 121 8250
non sales calls contact 01473 242620 or click here
UK Cruises
The concept of cruising for leisure was born in Great Britain, in the Shetland Islands in 1835, however cruising the British Isles is relatively new. The idea of not flying, no long periods at sea and no borders to cross is appealing to many and the ports of call are becoming well equipped for receiving hundreds of visitors on a day's excursion ashore.
Most itineraries on these UK cruises will include a call at St Peter Port on the Channel Island of Guernsey, where tax free shopping is available and where, whilst docked, the ship will hold duty free status.
Wildlife such as otters, seals, dolphins and even whales can be seen whilst traversing the Scottish islands. In addition, some of Great Britain's most culturally rich attractions can be enjoyed in Dublin, Edinburgh and Cobh (Cork). Occasionally, a French port of call may also be offered, usually Honfleur or Cherbourg.
If you enjoy the convenience of a United Kingdom cruise, then you should also check out our range of cruises from the UK.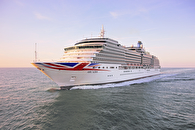 9th Aug 2020 | 12 nights
On board Arcadia

Ports of call: Southampton - Cork, Ireland - Stornoway (Stornoway) - UK - Kirkwall, Scotland - Invergordon - Greenock (Glasgow) - Dublin - St. Peter Port, Guernsey - Southampton
Prev 1 Next
1 Pages. Showing items 1 to 1 of 1.
We do not share your email address with any 3rd parties. We carefully tailor our recommendations to your requirements and aim to keep you up to date with the best news, reviews and offers.