For new enquiries contact Contact GoCruise free on:
0800 121 8250
non sales calls contact 01473 242620 or click here
World Cruise Deals
The world may not have been enough for James Bond, but perhaps it will be for you as you sail from destination to destination on one of our spectacular world cruises. Leave behind your everyday life as you explore a variety of different locations within a range of different continents during an extended trip which will leave you relaxed, rejuvenated and enlightened upon your return.
If, however, you are looking for a much shorter option, why not check out the various mini cruises that we have available.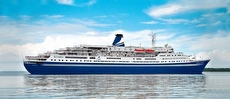 Ports of call: Bristol - Cobh - Vigo - Lisbon - Mindelo, Cape Verde Is. - Santarem - Boca De Valeira - Manaus - Parintins - Alta do Chao, Portugal - Icoaraci - Iles du Salut - Scarborough, UK - Bridgetown - Castries - Horta - Ponta Delgada, Azores - Bristol
Prev 1 Next
1 Pages. Showing items 1 to 1 of 1.
We do not share your email address with any 3rd parties. We carefully tailor our recommendations to your requirements and aim to keep you up to date with the best news, reviews and offers.