For new enquiries contact Contact GoCruise free on:
0800 121 8250
non sales calls contact 01473 242620 or click here
Family Friendly Cruise Deals
Cruising is something that can be enjoyed by people of all ages, and with these family cruises everyone will be catered for. With generously sized family cabins and entertainment for both young and older travellers, you can enjoy a once in a lifetime holiday together. And if you're looking for excellent value for money, our budget cruises could be the perfect place to start.

Ports of call: Southampton - Ponta Delgada, Azores - Funchal - Gran Canaria - Tenerife - Lanzarote - Lisbon - Southampton

Ports of call: Southampton - Zeebrugge - Ijmuiden - Bergen, Norway - Geiranger - Reykjavik - Belfast - Dublin - Southampton

Ports of call: Barcelona - Nice (Villefranche) - Portofino - Livorno - Rome (Civitavecchia) - Amalfi - Barcelona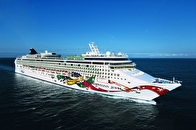 Ports of call: Vancouver - Victoria, British Colombia - Astoria,Oregon - San Francisco, California - Monterey - Los Angeles
Prev 1 Next
1 Pages. Showing items 1 to 4 of 4.
We do not share your email address with any 3rd parties. We carefully tailor our recommendations to your requirements and aim to keep you up to date with the best news, reviews and offers.