For new enquiries contact Contact GoCruise free on:
0800 121 8250
non sales calls contact 01473 242620 or click here
Customer Favourites
Here is a great selection of our most popular cruises which keep our customers returning to GoCruise time and time again. You will find offers and deals to a wide range of our destinations including Europe, Scandinavia, the Mediterranean and the Caribbean. Some of our most popular cruises are operated by companies such as Royal Caribbean, Celebrity and Fred Olsen Cruise Lines.
Alternatively, if you are travelling alone, our solo cruises could be a great place to start your cruising adventure.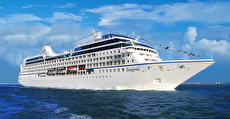 7th Aug 2020 | 10 nights
On board Marina

Ports of call: Southampton - Paris - St Malo - Brest - La Rochelle - Bordeaux - Bilbao - La Coruna - Southampton

Ports of call: Southampton - Hamburg - Copenhagen, Denmark - Visby, Sweden - Tallinn, Estonia - St Petersburg, Russia - Kiel - Skagen - Southampton
4th Mar 2021 | 16 nights
On board Braemar

Ports of call: Bridgetown - Castries - St. Kitts - St John's, Antigua - Philipsburg, St Maarten - Ponta Delgada, Azores - La Coruna - Southampton
Prev 1 Next
1 Pages. Showing items 1 to 3 of 3.
We do not share your email address with any 3rd parties. We carefully tailor our recommendations to your requirements and aim to keep you up to date with the best news, reviews and offers.