For new enquiries contact Contact GoCruise free on:
0800 121 8250
non sales calls contact 01473 242620 or click here
The Tauck Difference - January 2017
Back in November I was fortunate enough to spend 2 nights on one of Tauck's newest river ships 'MS Grace' during the 2016 CLIA River Cruise Conference festivities. It was a memorable experience and one I would not hesitate to recommend. We were treated to Tauck's immaculate, yet understated service and discovered much more about not only their European river cruise programme, but the worldwide Tauck travel experience, during presentations lead by Vice President of Global Sales, Steve Spivak.
These are the stand out points that differentiate Tauck, for me, from other river cruise lines.
Ship Size
'MS Grace' only carries 130 passengers, despite being the same size (135m) as many of her competitor's ships that routinely carry 150 to 190 passengers. Having fewer people on board really makes a difference in terms of cabin size, public space (the Lounge and restaurant are less crowded) and less people on each shore excursion. Conversely there are more staff - in addition to the crew of 39, there is always a Cruise Director and three other Tauck Tour Directors on board, who accompany all the shore excursions.
I was particularly impressed with the layout of the bathroom on this Scylla built ship – very roomy and more like a trendy bathroom at home, than one on a cruise ship. Then of course there is the innovative loft style cabins on the lower deck - a split level arrangement, with 2 deck high windows and a mezzanine sitting area.
All in all, 'MS Grace' is a serene, classy ship. Beautiful chandeliers, ironwork and marble in the Atrium/entrance embrace you as you take in its sophisticated style. A welcoming Lounge and relaxing colour scheme of grey, brown and blue tones throughout, completes an understated, casual elegance which is restfully reassuring and enveloping.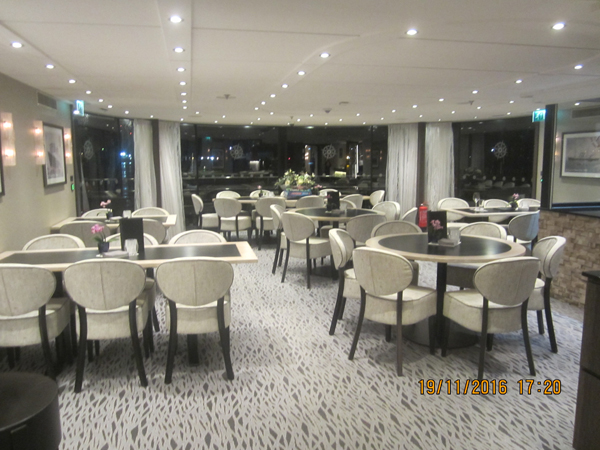 Food On Board
Tauck operates an open seating policy in its main restaurant where dinner is served between 6.30 and 8.30pm. Alternatively there is Arthur's – a casual grill style restaurant with a bar, aft on the ship. You can get continental breakfast here, light lunches and simpler dinner dishes than the main restaurant. It is open 11am- 11pm and also has a 24 hour expresso coffee machine with accompanying cookies.
The ship additionally offers a room service menu called 'Bite To Eat' which is available between 10am and midnight. It can also be served in the Sun deck or the Lounge and includes cheese and crackers, hot dogs, pretzels, fruit platters, ice cream and drinks. Suite guests can also experience a breakfast room service. As a result of all these choices, you really do feel that you can eat what and when you choose.
All-Inclusive
On Tauck river cruises 'all inclusive' does mean more than usual – it includes all excursions (see later), airport transfers, gratuities (including those for spa and salon staff) and unlimited complimentary beverages on board, including regional wine and beer, premium spirits (the complimentary champagne offered is Moet Chandon), speciality teas, coffees, water & soft drinks.
This also extends into shore excursions, where spending money is also handed out, so you don't have to worry about cash apart from pocket money and souvenirs.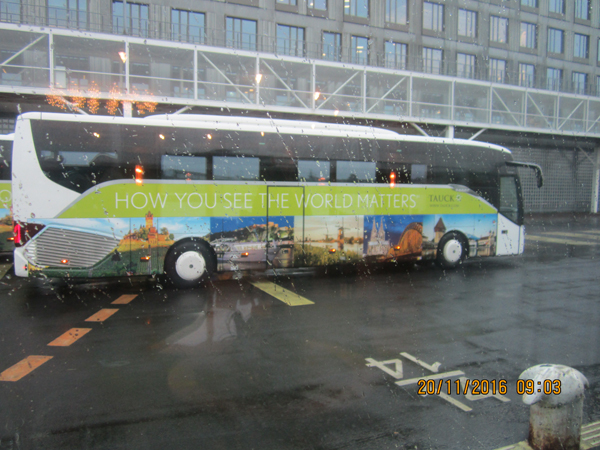 Shore Excursions
All shore excursions are included in the cruise cost. Guests are divided up into groups of no more than 25 people and accompanied by the Cruise Director, Tour Directors and local guides. There is always a slower group for less active guests.
Again, Tauck's attention to detail results in a seamless experience:
Tauck own their own fleet of buses - complete with toilet facilities and USB points. The strap line 'How You See The World Matters' says it all. The coaches follow the ship along the itinerary, often with the same drivers.
Tauck staff ensure that you always have money for incidentals like toilet stops or lunch on day long excursions (€20 pp is provided so that you can try out local restaurants along the way). In the American Military Cemetery in Luxembourg, guests are given roses to put on the soldiers' graves.
Steve Spivak, during his presentations, took pains to stress the attention Tauck, as a company, pays to all aspects of its experiences and how closely it works with its suppliers - past passengers typically comment on the originality and content of excursions and the welcoming personal touches offered by the people and places they visit.
Tauck also offer their exclusive 'Uncommon Access' experiences on each river cruise. These are deeper, behind the scenes cultural immersions, including private dining experiences in historic venues that go far beyond the ordinary, eg.the Lobkowicz Palace in Prague, still lived in by the Lobkowicz family, a cocktail reception and snacks at the famed Baden-Baden Casino or even dinner at a one Michelin-star castle-restaurant near Rudesheim.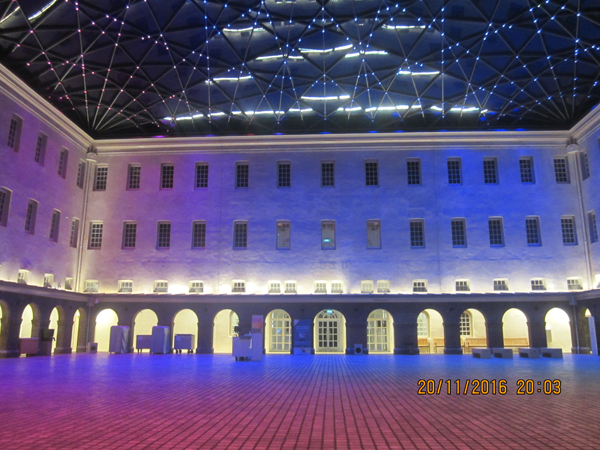 We were treated to an example of an 'Uncommon Access' event, when on our second night on the ship, we were taken to the National Maritime Museum in Amsterdam (Hetscheepvaartmuseum), on Oosterdok (Eastern Dock) in the centre of Amsterdam for dinner. This is not a place that Tauck has used before, but it included a drinks reception, a meal and string quartet entertainment in amazing surroundings.
It was also possible to look round the parts of the museum which opens out onto the canal system in Amsterdam. It is home to the Royal Barge – a rowing barge that was built at the Navy shipyard in Rotterdam in 1816 for King William I. Since then, it was used by the head of state for official events and marked its final voyage in 1962 with the silver wedding anniversary of Queen Juliana and Prince Bernhard, after which it was retired. The museum, which also houses a replica of the Amsterdam, an 18th-century East Indiaman ship, is built in a restored naval storeyard and the glass roof of the courtyard is inspired by the compass rose on nautical maps and has a continual light display at night.
Tauck & Families
Tauck is one of only a few river cruise lines actively encouraging river cruises geared towards children. Their 'Tauck Bridges' programme promotes family travel and offers up to 14 travel dates across the Seine, Rhone, Danube & Rhone rivers in 2017 (as well as other holiday destination experiences).
Many of the suites on Tauck ships have pull out sofa beds for a 3rd or 4th guest, although there are no connecting cabins and on 'Tauck Bridges' sailings, the Category 1 cabins are also sold to single passengers without a single supplement, allowing a grandparent to come along too, thereby making the experience truly multi-generational.
During these 14 sailings, the restaurant offers child friendly menus and Arthur's becomes a casual dining venue. Activities, both on board and ashore (they tend to be more active than normal shore excursions) are geared toward families: try a scavenger hunt in the Louvre, make marzipan faces in Passau, meet cowboys in the Camargue, book those on board bikes early for a ride through a forest along the Danube or Rhine or take a trip up the longest cogwheel train in Switzerland. Signature events, such as dinner in a fantasy fairy tale castle, are also still held.
The minimum age for a 'Tauck Bridges' cruise is 4 years, but Tauck recommends that children be at least 8 years old, to get the most out of the experience.