For new enquiries contact Contact GoCruise free on:
0800 121 8250
non sales calls contact 01473 242620 or click here
South America Cruises
Favourable weather during the European winter months and an increase in the number of direct flights from London has helped see a significant rise in the popularity of South America cruises and also the quality of voyages on offer.
The carnival in Rio de Janeiro draws hundreds of thousands of visitors and what better way could there be to arrive to it than by cruise ship. This vibrant and colourful part of the world never fails to impress and most of those who book a cruise choose to add a few land based days after the end of their travels at sea.
Many itineraries include a trip around Cape Horn, whilst others even venture to the Antarctic. Passing from the Atlantic Ocean, round the coast of Argentina, through the Strait of Magellan and into the Pacific Ocean is a truly unforgettable experience.
Cruises to this region will provide the opportunity to see breathtaking old-world Montevideo, Uruguayan architecture, pristine lakes, the snow-capped Puerto Montt, Chilean volcanoes and Rio's perfect beaches. These thrilling journeys can last anywhere up to forty days, and typically attract passengers who have an appetite for education and adventure.
If you want to explore more of the Americas then why not take a look at the many North America, Panama Canal or Alaska cruises that we have available.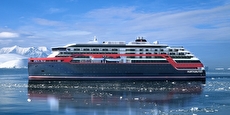 Ports of call: Valparaiso - Castro, Chiloe Island - Puerto Natales - Chilean Fjords - Antarctica - Punta Arenas, Chile


Ports of call: Ushuaia - Antarctica - Ushuaia

Ports of call: Cape Town - Luderitz - Walvis Bay - St. Helena, UK - Rio de Janeiro
6th Jan 2020 | 70 nights
On board Balmoral

Ports of call: Southampton - Lisbon - Funchal - Mindelo, Cape Verde Is. - Salvador - Rio de Janeiro - Ilhabela - Montevideo - Buenos Aires - Punta del Este - West Point - Port Stanley - Punta Arenas, Chile - Valparaiso - Arica - Paracas - Callao, Peru - Puerto Limon - Willemstad, Curacao - Kralendijk,Bonaire - Bridgetown - St John's, Antigua - St. Kitts - Ponta Delgada, Azores - La Coruna - Southampton
Prev 1 Next
1 Pages. Showing items 1 to 4 of 4.
We do not share your email address with any 3rd parties. We carefully tailor our recommendations to your requirements and aim to keep you up to date with the best news, reviews and offers.